Magpie **ADOPTED**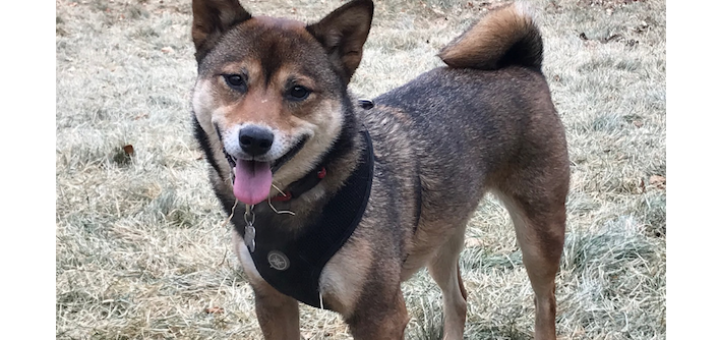 2 year old female Shiba, no kids, no apts/condos, $350 adoption fee
Magpie is a gorgeous sesame girl with lots of energy.  She is sweet, outgoing, likes to be the center of attention, and does not want to be left out of anything!  She is naturally a bit of a nervous/anxious girl, and has been through a lot in her short life.  She does not adapt well to change, so she needs a quiet, calm, and stable home.  She is very friendly and loves to meet people, including children, but has proven not to do well living with children.  She is good with other dogs, but can get overwhelmed with dogs that are relentlessly playful.  Having another well socialized dog in the home seems to help with her anxiety.  A male dog, who isn't too playful, and either doesn't care about toys, or is good at sharing them, is ideal.  No resource guarders please.
Magpie loves, and needs, her daily walks. She is good on leash, but don't expect to get anywhere fast with this girl; she is all about the sniffs!  She needs lots of toys to keep her from getting bored, and would prefer a human willing to spend some time everyday playing her favorite games; fetch, keep-away, and tug-o-war.  She is one of those Shibas that just needs an outdoor space.  She takes her job of patrolling her yard seriously, loves to chase squirrels, and sunbath too.  When inside, she needs a perch where she can keep an eye on things, and alert you to other dogs or the mailman appraoching.
Magpie is house trained, crate trained, and a well behaved dog.  Her adoption fee is $350 and includes her spay, vaccinations, heartworm test, microchip, and initial training class or private session with a COSIR approved trainer.