Essie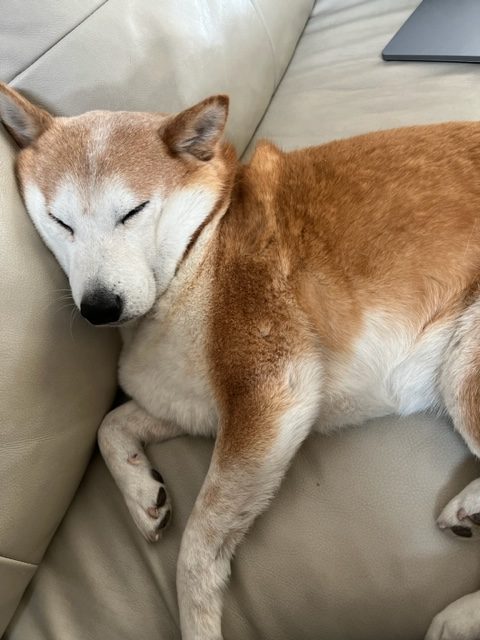 9 yr old female Shiba Inu – no kids –
This beautiful girl is Essie. She is a very happy, social, and energetic little Shiba. She has already had 2 homes, so we plan to make the 3rd one a charm! Her family adopted her from us 8 years ago, and she was living her best life until they brought home their first child. Essie's demeanor changed immediately, and despite their best efforts over the last 18 months, it is clear that Essie needs a home with no children to be happy.
Essie loves her people (the grown up ones anyway ;)) and although she is cautious, she warms up to new friends pretty quickly. She is a bit of a cuddle bug and will train her human to give belly rubs on demand. She has lots of energy and needs daily walks. She is also always up for a hike. She is accustomed to a home with a yard, and loves to be outside, but may be able to transition to apartment life with enough daily outdoor adventures.
Essie is good with other dogs. She is currently living with a Golden Retriever and they are good buddies! She also reportedly loves to play with her Husky friends. She gets a bit overexcited to meet and play with other dogs. She can be a bit rambunctious and nippy with them, so might be too much for a senior, a more timid or a dog that would not respond well to her bossiness! She has a tendency to guard her food/treats, so should not live with dogs that are also guarders. She would likely also do well as an only dog. She has not been tested with cats, but has a high prey drive.
Essie is house trained, but is not crate trained. She will bark when visitors first come into the home, but settles down quickly. It is unknown if she learned this from the Golden, and if it would continue in her new home. She is a bolter and escape artist, so proper protocols will need to be in place before opening doors and fencing will need to be 6ft tall and Shiba-proof!
We are looking for a foster or foster-to-adopt home for Essie so that we can bring her into rescue. If you are interested, please submit an adoption or foster application. If you are already on our waitlist, please let us know you are interested by email at adopt@coloradoshibainurescue.org or call/text 720-491-1278.
Essie's adoption fee will be $175 and includes her spay, vaccines, HW test, and microchip.