Leon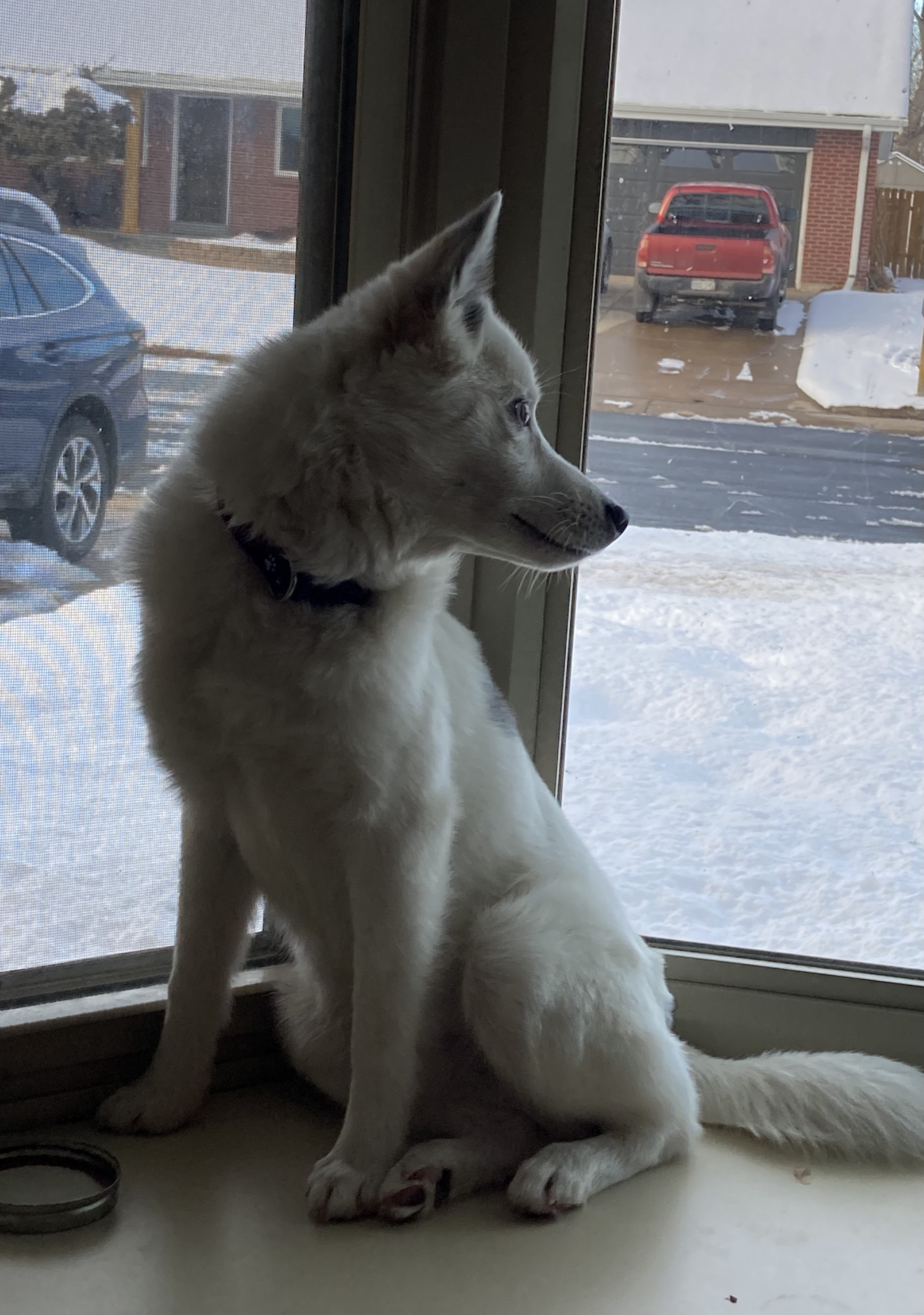 – 6 month old male Shiba/Husky mix, no kids <10
Leon is an adorable Shiba/Husky mix. At 6 months, he's about18 lbs, but doesn't have big paws. He will likely be larger than a Shiba, but smaller than a Husky. Leon was bought at a pet store by a couple who didn't have time for him. Leon was confined to his crate all the time and far too vocal in his protests for apartment life. A kind soul took him in, but being disabled, he is just not physically able to manage to this excitable, crazy puppy's needs. Thankfully he contacted us.
Leon would do best in a home with someone who's familiar with the breed and able to begin training and socialization right away so Leon grows up to be a great dog!
Leon likes every dog he meets, and would benefit from having a well socialized dog in the home to teach him the rules of doggy engagement and play. Active humans who walk twice a day is best to keep Leon exercised and stimulated. He lives to be outside, regardless of wether, and would love having humans who love the outdoors too! He definitely wants attention from his human; will even cuddle and sleep with his humans. Leon needs a leader and best friend. We are hoping to find a foster-to-adopt home for him!
Leon is almost completely house trained, but hasn't learned his manners yet. He's a happy, excitable boy with lots of energy. He will jump up, mouth, and wrestle anyone who engages. He has done well playing with teenage neighborhood kids, but would likely be too much for kids under 8-10. Leon has not been tested with cats.
The Shiba/Husky mix is the perfect recipe for an escape artist, and Leon has already lived up to the stereotype. He has dug under the fence and gotten out once already when left unattended in the yard. He's not a fan of the crate after his experience in his first home, but will respect a boundary confining him to a specific room or area. Like most Huskies, he can be vocal. He uses his voice to communicate when he wants to go outside, is hungry, or just wants to play! We believe once he is in a home where he gets proper exercise, stimulation and training, he won't get into so much trouble!
Leon has been placed in a foster-to-adopt home from our waitlist. They plan to adopt him after satisfying a trial foster period first so that we can be sure it is the right fit for him. Stay tuned for an adoption announcement!