Lucy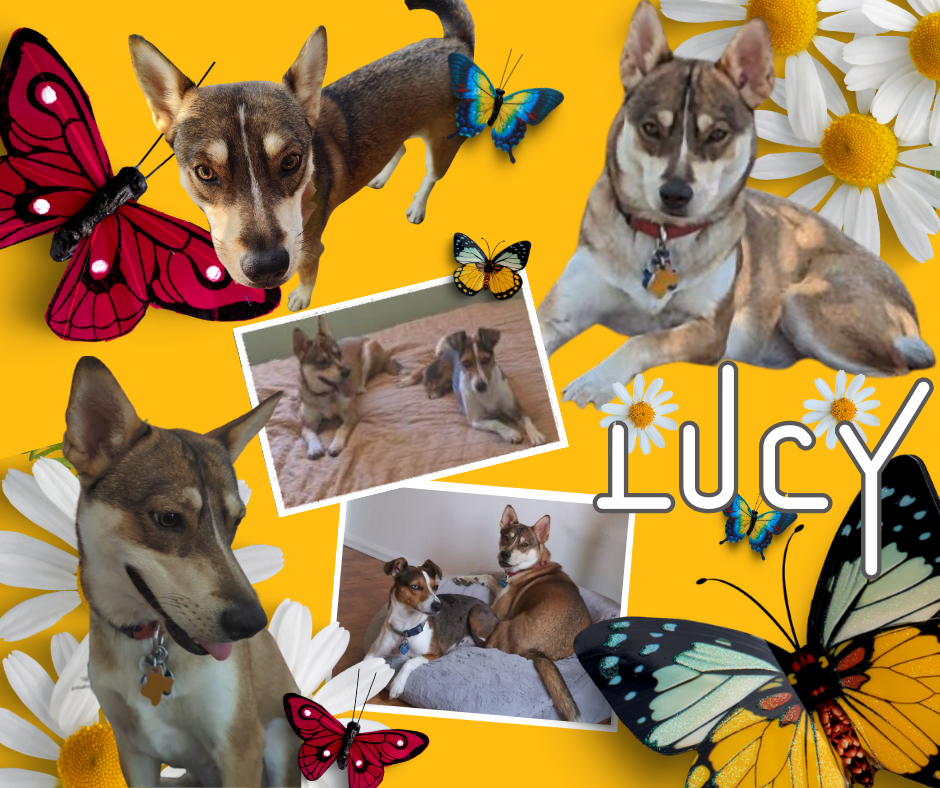 LUCY HAS BEEN ADOPTED! –
Lucy, and her littermate Linus, were estimated to be 6 months old when they were found stray and taken to a shelter. They thought she might be a Shiba mix. We didn't necessarily see any Shiba in her, but figured people always want puppies…how hard could it be to find her a home?! So Lucy became a COSIR dog.
Our DNA test results showed Lucy is a mix of Husky, Chow, Lab, Boxer, GSD. Mixes are always harder for us to find homes for, particularly when there isn't any Shiba in them at all! We thought surely finding this beautiful and sweet pup a home won't be a problem; right?!?! Wrong. Lucy, nor Linus, got much interest from applicants. Finally, nine months later, Lucy was adopted; 273 days later to be exact. 😉
273 days is a long time to wait for your forever home, but there was an upside. Time was what Lucy needed to blossom from a dog that was likely to be returned to us for being "too much work", to a great catch for some lucky family! How?
She had experienced foster parents help her learn to trust humans. They socialized her people, and helped her discover life as a pet; not a stray. We invested in training, where she had good experiences with other dogs and learned the rules of play. She's smart enough, and was now confident enough. She was ready.
Timing is everything in rescue, and Kyle and Emily had good timing. Kyle and Emily were looking for a dog that would make a great friend and playmate to their Jack Russell mix named Clara. A Shiba mix, a "supermutt", doesn't matter. They wanted a female with excitable puppy energy to be a playmate for Clara, and they seemed to think Lucy was just that. They were right.
She and Clara are now the best of friends. Clara is exactly the big sis that Lucy needed, and she takes her queues from her. Lucy is thriving as a very important and loved part of this adorable family pack. She is definitely in a home that was worth the wait; and meant to be, we believe. Congratulations to Kyle, Emily, Clara, and Lucy.