Rusty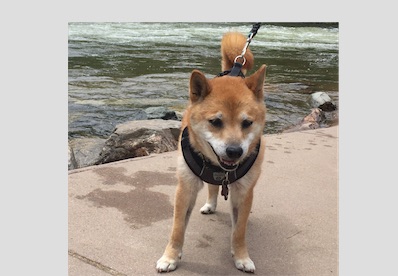 8 y/o male, no apts/condos, $175 adoption fee
Rusty is quite a character, but in the best way possible! He is a fun-loving little guy who loves people and most dogs. He wants to be around people all the time, and will insist on being in the same room with whoever is home. Unlike many Shiba's he is very affectionate. He loves pets, belly rubs, and cuddling up to his favorite human! Rusty does well with adults and children over the age of 5 as long as they approach him properly. He has not been tested with children under 5 or cats.
Rusty does well with most other dogs, but seems to prefer females. He would also be fine as the only dog in the house. He doesn't seem to understand how to play, or how to initiate it. He sometimes gets a little scared when other dogs try to engage him, so other dogs in the home should be more on the mellow side. No puppies! He loves playing with his toys and his humans in the back yard. He seems to like car rides too.
Rusty is house trained, and has basic manners. He walks well on leash and absolutely lives for his walks. When he's not out walking, playing with his toys, or following his human around the house, he enjoys relaxing in his favorite spot on the couch or his bed. He is crate trained, but would prefer a home where crating is not necessary.
Rusty needs to live in a home with a fenced yard, and would not do well in an apartment or condo for a few reasons. Although he will reliably go pee on leash, he will not necessarily go #2. Like a lot of Shibas, he can be quite vocal. He loves to start the morning with a little "song" once he hears that people are up. He gets pretty excited and likes to "announce" his humans' arrival home. Like we said, he's quite the character 😉
Rusty was a stray, was starving, and had serious skin problems when we took him in. He has gotten back to a healthy weight and has been diagnosed with severe environmental allergies. He is on a customized immunotherapy medication for his allergies and will need to be on it for the rest of his life.
The first picture below is what Rusty looked like when he came into rescue. You can see his progress and that he's looking and feeling much better now. He just needs a loving forever home!
Rusty's adoption fee is $175 and includes his neuter, vaccinations, heartworm test, allergy diagnosis, and microchip.