Sophie
Sophie has been adopted! She spent too many of her 10 years suffering from skin infections and allergies. Unable to provide the care she needed, and no Shiba rescue in the Pacific Northwest, her family tried to re-home her themselves. Thankfully, a former COSIR director found her posting online. Sophie's family was happy to make a road trip to get her into rescue, and on to a better life!
Emily and Joe have a long history with Shibas, and adopting from COSIR. They are the kind of adopter that a rescue dreams of. Any rescue dog would be lucky to have them. They had suddenly and tragically lost Elvis (COSIR '15) to cancer, cutting his life far too short. We grieved along with them, as Elvis was our dog too, and we didn't expect to hear from them for some time.
We were both surprised and elated when Emily and Joe reached out. Sophie's story really moved them. They felt compelled to offer Sophie the forever home she deserved, and what better way to honor the memory of their sweet "baby Elvis".
They already have an allergy dog, so they knew what they were in for. The timing was nothing short of a miracle, considering Sophie's foster was about to move away and we were almost out of time. Like a team of superheros, Emily, Joe, Daiki (COSIR '13), and Mochi, jumped in the car and drove from CA to CO on a week's notice. They were on a mission to save Sophie!
We all know with Shibas, meeting new dogs can be hit or miss, but we knew introducing Sophie to Daiki and Mochi go well. Daiki is like a Shiba ambassador, and has proven it time and again. We'd not met Mochi yet, but any brother of Daiki must be cool. It felt more like bumping into old friends than a 'meet and greet', so it was clear Sophie was packing her bags and hitting the road; destined to be a west coast girl once again.
Since being adopted, their vet discovered and removed benign mammary masses, broken teeth, and warts on her feet. True to form, Daiki offered her comfort and support, staying by her side after surgery. Sophie is recovered and now in the best shape of her life! She's feeling good and loves her walks; something too painful to enjoy before. Now she can focus on getting her beach bod back. (She put on a few pounds while being on steroids). But with 2 devoted humans and 2 adventurous Shiblings by her side, she is up for the challenge! It's all about fun in the CA sun for Sophie from here on out!
We look forward to seeing photos of Sophie living her best life. It has been a pleasure being a part of her journey, and our hearts are full knowing she is so very loved and well cared for! We are eternally grateful to you Emily, Joe, Daiki, and Mochi. You are nothing short of superheroes to us!
---
Read Sohpie's full story here:
This precious girl is Sophie. She was suffering from recurring skin infections and allergies. What began as mild environmental allergies about 7 years ago, had become recurring antibiotic-resistant staph infections on her entire body. Her family wasn't able to get a proper diagnosis or provide consistent treatment due to a lack of time and finances. Sophie has traveled over a thousand miles from her home to be rescued and we are so happy she's here!
When Sophie arrived in Colorado, she was in bad shape. Severely underweight, widespread alopecia, scaling/flaking dry skin, and painful sores from her tail to her ears and snout. Her entire body was red and inflamed. Sores on her paws, groin, and inner thighs make it uncomfortable for her to walk or climb stairs. Despite all her suffering, she is incredibly sweet and docile girl. She has put up with so much handling at the vet and dermatologist's clinics and never protests.
We battled her skin infections for a few months. It took time to find the right antibiotic. She took steroids and got regular medicated baths. Her overall condition slowly improved, but we continue to battle the sores on her paws and belly. A fresh food diet (vs kibble) has helped to reduce her inflammation, she has gained weight, her skin is softening and her coat is coming back.
Sophie started out so quiet and subdued. She mostly just slept and ate. As she began to look and feel better, we saw her come to life. She has an adorable, spunky personality and she now has lots to say and is ready to play!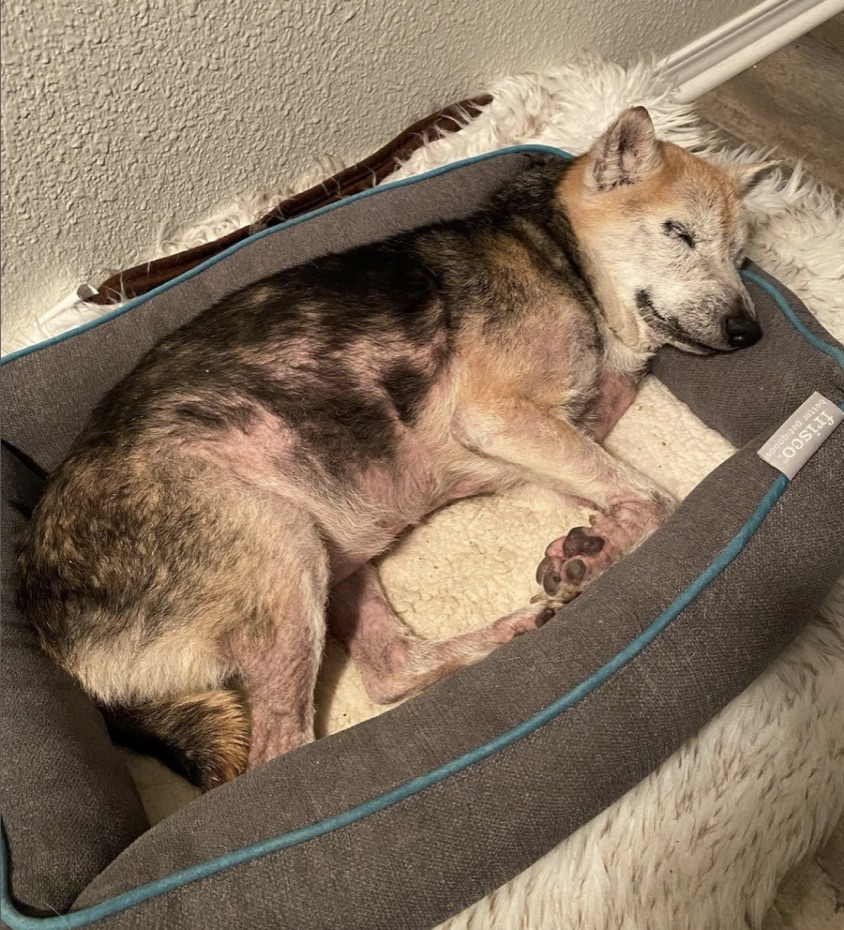 With the skin infection clear, we could focus on the allergies that were the root cause of all of her skin problems. With the results of her allergy test, Dr. Strauss created a custom-made immunotherapy serum for her. It will take about 4 months for the drops to fully take effect. Only then will her skin fully heal and new sores stop forming.